It's the dawn of a new season, and that means it's time for A10 Talk Women's Basketball Power Rankings! We are back and better than ever, featuring a committee of seven voters this season! Let's meet the 15 teams!
1. UMass
Record: 0-0
Upcoming games: 11/7 vs Central Connecticut State, 11/10 at #5 Tennessee
Season outlook: Guess who's back. Back again. The entire UMass starting lineup (and then some) is back from last year's A-10 Championship team. Tell a friend (and the NCAA Selection Committee to put some respect on Amherst)! The undisputed queens of the Atlantic 10, the Minutewomen have gone from being the hunters to the hunted. Tory Verdi's rise to arguably the top coach in the league has been swift and impressive. Every accolade you can think of, this team earns. Normally a team having four team captains would raise some eyebrows and get old folks yelling about "kids these days" and "everyone getting a trophy." But when your four captains are Sam Breen, Ber'Nyah Mayo, Destiney Philoxy, and Sydney Taylor, it's hard to make a case to leave any one of those four out. It's an embarrassment of riches in depth for UMass, and they add Laila Fair from Saint Joseph's to the roster, who a season ago make the A-10 All-Rookie Team and the A-10 All-Championship team in Wilmington leading the Hawks on an improbably March run to the A-10 Semifinals. An at-large bid is on the table for UMass, especially if they can secure some key non-conference wins against #5 Tennessee, Missouri, Arizona State, Yale and Columbia.
2. Rhode Island
Record: 0-0
Upcoming games: 11/7 at Harvard, 11/11 vs Dartmouth
Season outlook: The rich got richer this offseason, as the Rams reloaded by bringing in not one, not two, but THREE intra-conference transfers in Tenin Magasa from Dayton, Emma Squires from Richmond, and Madison Hattix-Covington from VCU. Heck that's practically an A-10 All-Star team lineup right there. URI will of course miss Marie-Paule Foppossi and Emmanuelle Tahane but if the new pieces mesh together well, they could bring back Rhode Island stronger than ever. Time will tell just how good this Rhody team can be.
3. La Salle
Record: 0-0
Upcoming games: 11/7 at Howard, 11/10 at Sacred Heart, 11/12 at Niagara
Season outlook: Brick by brick, year by year, La Salle has been building up to this point. Out of the cellar, the Explorers look poised this season to finally take that big step forward. Claire and Amy Jacobs lead the way, along with Kayla Spruill and Molly Masciantonio, the core four from a year ago. La Salle may not be the flashiest team on paper, but they play together and with a tremendous amount of heart. While their schedule doesn't really have any games that jump off the page at you, they do have a pair of games in Alaska in the Great Alaska Shootout in mid-November against Pepperdine and one of either UC-Riverside or Alaska Anchorage.
4. VCU
Record: 0-0
Upcoming games: 11/7 vs Lafayette, 11/11 vs William & Mary
Season outlook: Beth O'Boyle has built VCU into a perennial contender in this league, an amazing feat considering what VCU Women's Basketball once looked like. The Rams, despite the loss of Madison Hattix-Covington to Rhode Island, look poised to once again contend for a double-bye in the Atlantic 10 Tournament. Their schedule is highlighted by a trio of games in the Paradise Jam against Seton Hall, Georgia, and Wisconsin, as well as a home game against James Madison.
5. Fordham
Record: 0-0
Upcoming games: 11/7 vs Yale, 11/10 vs Saint Peter's, 11/13 at #17 Maryland
Season outlook: An offseason filled with off-the-floor drama in the Bronx saw the departure of long-time head coach Stephanie Gaitley. Lines seemed to be split amongst Fordham WBB alumni on how they felt about her firing, but many made their voices heard. Amidst the chaos, Fordham named Candice Green the interim head coach, and she managed to keep nearly the entire Fordham roster intact. Household names like Anna DeWolfe, Asiah Dingle, Kaitlyn Downey and Megan Jonassen all return to Rose Hill, meaning this Fordham team will, yet again, be a force to be reckoned with in the Atlantic 10. The Rams will put their new coach to their test in the non-conference slate that features #17 Maryland, #24 Princeton, Yale and South Dakota, the latter two receiving AP Poll votes. Keep your eye on these Rams as the calender flips to 2023, they may just hit their stride at the right time.
6. Saint Joseph's
Record: 0-0
Upcoming games: 11/7 vs Bucknell, 11/11 vs Yale
Season outlook: The surprise of last season, the Hawks are back for more, and looking to build on their March run in Wilmington! Despite losing Laila Fair to UMass, the deadly duo of Tayla Brugler and Katie Jekot are ready to run it back, as are Mackenzie Smith, Julia Nyström and company! Saint Joseph's may not catch teams sleeping as they sometimes did last year, but this Hawks group is sure to make some noise in conference play.
7. Davidson
Record: 0-0
Upcoming games: 11/7 at High Point, 11/12 vs Duke
Season outlook: This team is just so much fun. The Wildcats return the majority of their core, and I'd expect their experience in the WBI last season will play dividends for the future. This is a scrappy bunch that plays together and plays hungry. Davidson has a huge opportunity for a signature win as they will host Duke at Belk Arena on Saturday, not to mention the ensuing game at #17 Maryland the following Wednesday. and a trip to #10 NC State in December. I'd expect this to be a team that winds up in the top-half of the Atlantic 10 when all is said and done in February.
8. Richmond
Record: 0-0
Upcoming games: 11/7 at Liberty, 11/10 vs Mount Saint Mary's, 11/13 at Clemson
Season outlook: Richmond's strength over the last few seasons has been roster continuity, and that is the case yet again this season. The loss of Emma Squires to Rhode Island hurts, but aside from her, the remainder of the roster is remarkably intact. Leading scorer from last season Addie Budnik returns for the Spiders, as does Grace Townsend who will likely be asked to carry just a little more of the offensive load this season. Looking at their schedule, Richmond is one of two A-10 teams to host Duke this year, and they also have a road date with Clemson the opening weekend of the season.
9. Duquesne
Record: 0-0
Upcoming games: 11/7 vs Point Park, 11/11 vs Brown, 11/13 vs Manhattan
Season outlook: Duquesne has had just about every bit of adversity you could throw at a team over the last several years. They had a long stretch of time without a true home game while their home arena underwent renovations, COVID hit this team hard as did the injury bug as well. If the roster can stay healthy, this Dukes team has some nice pieces that could do some damage come A-10 play. Megan McConnell and Tess Myers are both no longer freshmen and have a full year of college basketball under their belts. Look for them to be key pieces, as well as Precious Johnson. Keep your eye on these Dukes, they may just sneak up on a few teams this year.
10. Dayton
Record: 0-0
Upcoming games: 11/7 at Providence, 11/10 vs Illinois State, 11/13 at Akron
Season outlook: This offseason was one of dramatic change for the Flyers, as they lost their coaching staff and nearly all of their offensive production from a season ago. Shauna Green (plus Makira Cook and Brynn Shoup-Hill) left for greener, or oranger, pastures at Illinois, while Tenin Magasa transfered east to Rhode Island. Tamika Williams-Jeter does look to be a good hire for the future in Dayton, but year one at UD will likely have more downs and than ups. Their non-conference schedule won't do them any favors either, as Dayton will face the likes of Providence, Ole Miss, Kentucky, Florida, and Texas A&M. This will be a battle-tested bunch by the time conference play rolls around, but their record will not look pretty.
11. George Washington
Record: 0-0
Upcoming games: 11/7 at Virginia, 11/10 vs UMES
Season outlook: Year two of the Caroline McCombs era is set to get underway in Foggy Bottom, as GW looks to build on their two wins in Wilmington back in March and funnel that momentum into the future. The Colonials will find out early on in the season what they are made of, as they open the season on the road at Virginia. A trip to Las Vegas at Thanksgiving for a trio of games in the UNLV Thanksgiving Tournament should also provide a good challenge for this group. Keep your eye on Maxine Engel this season: the walk-on turned starter turned scholarship player has an extremely underrated game, and could be a big piece to GW's success if they are to take a step forward this year,
12. George Mason
Record: 0-0
Upcoming games: 11/7 vs #17 Maryland, 11/10 at Robert Morris, 11/12 at Pitt
Season outlook: Year two of the Vanessa Blair-Lewis era brings elevated hope and elevated expectations to Fairfax. The Patriots have their sights set on a top-half finish in the Atlantic 10, which would mark the best finish since 2019. Lots of new faces are around, as three freshmen, Zahirah Walton, Nekhu Mitchell, and Jada Brown, plus four transfers, Sonia Smith, Riley Childs, Nalani Kaysia, and Trey Kennedy (shoutout to my man Trey, they're awesome!). While the Patriots lack some size inside, their guard depth has doubled, and this could easily be the most athletic team that George Mason has had in quite some time. The Patriots open the season hosting #17 Maryland, followed by a road trip to Pittsburgh to face Robert Morris and Pitt.
T-13. Loyola Chicago
Record: 0-0
Upcoming games: 11/7 at Western Michigan, 11/10 at Milwaukee
Season outlook: The Ramblers enter their inaugural season of Atlantic 10 play with a brand new coach in Allison Guth, one of the top hires of the offseason. She arrives after a six-year term as head coach at Yale, taking the Bulldogs to record heights, including a WBI title in 2018. Loyola Chicago enters as one of the more veteran teams in the A-10, despite having yet to play an A-10 game, boating eight players on their roster who are either juniors or seniors. They return their top scorers from a year ago, Maya Chandler, who led the team with 10.6 points per game. The Rambers are a bit of a wild card team this year, but will look to make a splash in their first year of A-10 competition.
T-13. Saint Louis
Record: 0-0
Upcoming games: 11/7 at Indiana State, 11/11 vs SIUE, 11/13 at UNI
Season outlook: The Lisa Stone era at Saint Louis finally came to a close at the hands of George Mason in the A-10 Tournament, following the first ever loss of an 11-seed to a 14-seed. The Billikens are fully in rebuilding mode, and will have to build from the ground up to get back to a championship caliber program. Brooke Flowers is the biggest piece from last season to remain on the roster this year, and any success that the Billikens have this season will have to run through her.
15. St. Bonaventure
Record: 0-0
Upcoming games: 11/7 vs Bowling Green, 11/11 vs ETSU
Season outlook: What is there to say about the Bonnies that we haven't said before? They're young and inexperienced, with just one senior and one graduate student on the roster. They've show flashed over the past few years, but those sparks have often been few and far between. Jesse Fleming is unequivocally on the hot season in Olean, and very well could be coaching for his job this season.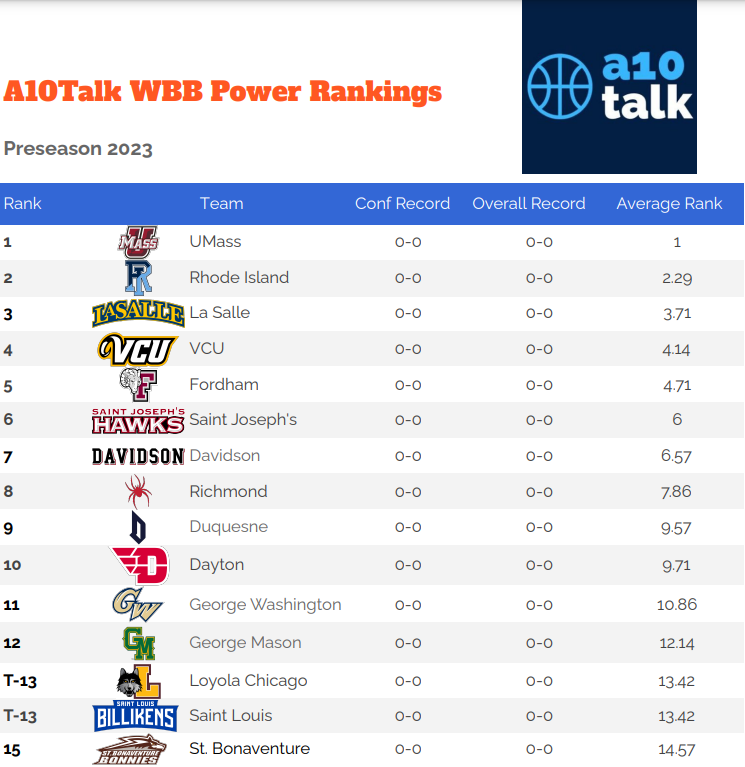 Daniel Frank is a member of the George Mason Class of 2022. He graduated high school from the Academy For Individual Excellence in Louisville, KY. He ...