Massive news today for Rhode Island Men's Basketball, and the entire Atlantic 10 for that matter. URI, just landed a last-minute massive non-conference opponent in Wisconsin per Jon Rothstein (and confirmed by multiple other sources/outlets).
Sources: Wisconsin is now finalizing a contract to play Rhode Island on Wednesday in Madison. https://t.co/LPd4aiZXEl

— Jon Rothstein (@JonRothstein) December 7, 2020
Local Rhode Island sports reporter Joe Kayata also added some details on the day and time of said matchup between the Badgers and Rams in Madison.
I can confirm per source that @RhodyMBB will he playing at Wisconsin on Wednesday at 3:30 CST.
Wisconsin is just working on final TV details. @NBC10 https://t.co/A20nXOP5Wl

— Joe Kayata (@NBC10_Joe) December 7, 2020
East-coasters be sure to note that's 3:30 CST, and 4:30 EST. It wouldn't matter if David Cox had to play this game at 3:30 Greenwich Mean Time. Cox and his squad are going to be more than ready to play. We'll have to check back in regarding the details on the TV/streaming outlet that lands this game in Madison, WI for A10 fans to tune in. If one had to guess – it's probably between the Big Ten network, or ESPN. ESPN a decent possibility since that's where the cancelled Wisconsin/Louisville matchup was going to be aired on.
A B1G Opportunity for Rhody
The season began with an extremely unclear non-conference schedule due to some COVID-19 related cancellations. But in the end, Rhode Island has been able to patch together a rock-solid non-conference schedule. After an 0-2 start against Arizona State and Boston College at Mohegan Sun, the Rams rallied to a 3-2 record. Albeit those 2 losses came in competitive fashion, rattling off 3 straight wins against a few quality opponents projects to be a promising sign for URI.
Joining in on the 2K Empire Classic at Mohegan Sun, a stone's throw from the University of Rhode Island's campus in Kingston was massive for their strength of schedule. Filling in for Baylor enabled them to get a crack at a Q1 team (and PAC-12 favorite) in ASU. Now, after playing Boston College in that same tournament – their schedule was wide open this week. That wide open week now enabling David Cox to add a game like Wisconsin to the schedule.
What To Expect…
The 2020-21 Rhode Island Rams
Rhody, a team flush with new faces (via transfers and incoming recruits), faced a lot of questions on their ability to gel in 2020. Thus far – they've proved to be a formidable force once again in the A10. Should they stay healthy, expect the Rams to make some noise during conference play. Following a 13-point win over Seton Hall on 12/2 – Rhody has some momentum. As for this game against the Badgers – it's likely be Rhody's biggest challenge all season.
Rhode Island faced challenging opponents early – and have showed resiliency. Fatts Russell has proven once again that he's one of the most talented players in college hoops. Russell's play has been rock-solid so far – averaging 17.6 points per game, and remaining impactful by getting to the foul line during shooting slumps. Incoming transfers Jeramy Sheppard (College of Central Florida) and Jalen Carey (Syracuse) have been awesome day-1 additions to the backcourt rotation, averaging 11.6 and 9.8 points respectively.
The frontcourt has shaped up to be deep enough to be dangerous as well. The Junior Georgetown transfer Antwan Walker has been a steady contributor in his 2nd season for the Rams. Walker's 10.2 points and 6.2 boards per game have also given David Cox a chance to ease big-man Jermaine Harris back into the rotation following a foot injury. You may also recognize Antwan Walker for his eye-catching dance moves from the bench:
Big time mood from Antwan Walker as @RhodyMBB wins their first game of the season over South Florida!

Final: 84-68 pic.twitter.com/VcxgSdnxHn

— Rosie Langello (@RosieLangello) November 29, 2020
The 2020-21 Wisconsin Badgers
Wisconsin opened up the season as #7 on the AP Top 25 pre-season poll, with good reason. The 2019-20 Big Ten regular season champs brought back the vast majority of starters/rotation from last season. Additionally, they had a solid class of recruits, particularly 4-star Ben Carlson, a 6'9 forward – further deepening their core of talent. The Badgers are in the Final 4 conversation for a reason. This Wisconsin team are legitimate contenders to repeat in the Big Ten – arguably the strongest conference in the 2020 College Basketball landscape.
However, those pre-season expectations aside, these teams appear to be trending in opposite directions at the moment. Wisconsin made light work of their first 3 opponents, but were just tagged with their 1st loss of the year by Marquette. For those who missed it – it was a wild finish, ending on a dramatic buzzer-beating tip-in:
Marquette upsets No. 4 Wisconsin off a tip in 😳

(via @CBBonFOX)pic.twitter.com/IxY61OW8ea

— Bleacher Report CBB (@br_CBB) December 5, 2020
Could this be an opportune time for Rhode Island to pull off a major upset? It very well could be if Wisconsin is still reeling following their unexpected loss to Marquette.
Prediction
I must admit, I'm bullish on Rhody in this one, but a little nervous about how well the Rams will travel last-minute. The big benefit of their other last-second additions to their schedule was they were practically down the street. This one is far different for URI. Suddenly traveling to Madison, and playing a Wisconsin team that very well could end up in the Final 4 this year.
BUT – Rhode Island appears ready and motivated to seize every non-conference opportunity given to them. This chance to notch a win against a top 15 opponent should only amplify the energy and intensity we've seen so far. Now might be the best time to take down Wisconsin, after what may be a shell-shocking loss in their first actually fair matchup of the season.
The Transitive Property as it Relates to CBB?
College basketball doesn't really embrace the whole transitive property when it comes to 'who should beat who'. However, sometimes it's fun to pretend that's the case. Seton Hall was projected to be a better team in the Big East than Marquette. Many outlets picked Seton Hall to be top 3 in the Big East, and Marquette as a young middle of the pack team (7th or so). If Rhode Island beat Seton Hall by 13, they should be up to the level necessary to be in the ballgame against a team that just lost to Marquette by 2. Flawed logic? Perhaps. But as a Rhody fan – I'd be remiss if I picked against my Rams in this one.
Rhode Island: 72
Wisconsin: 69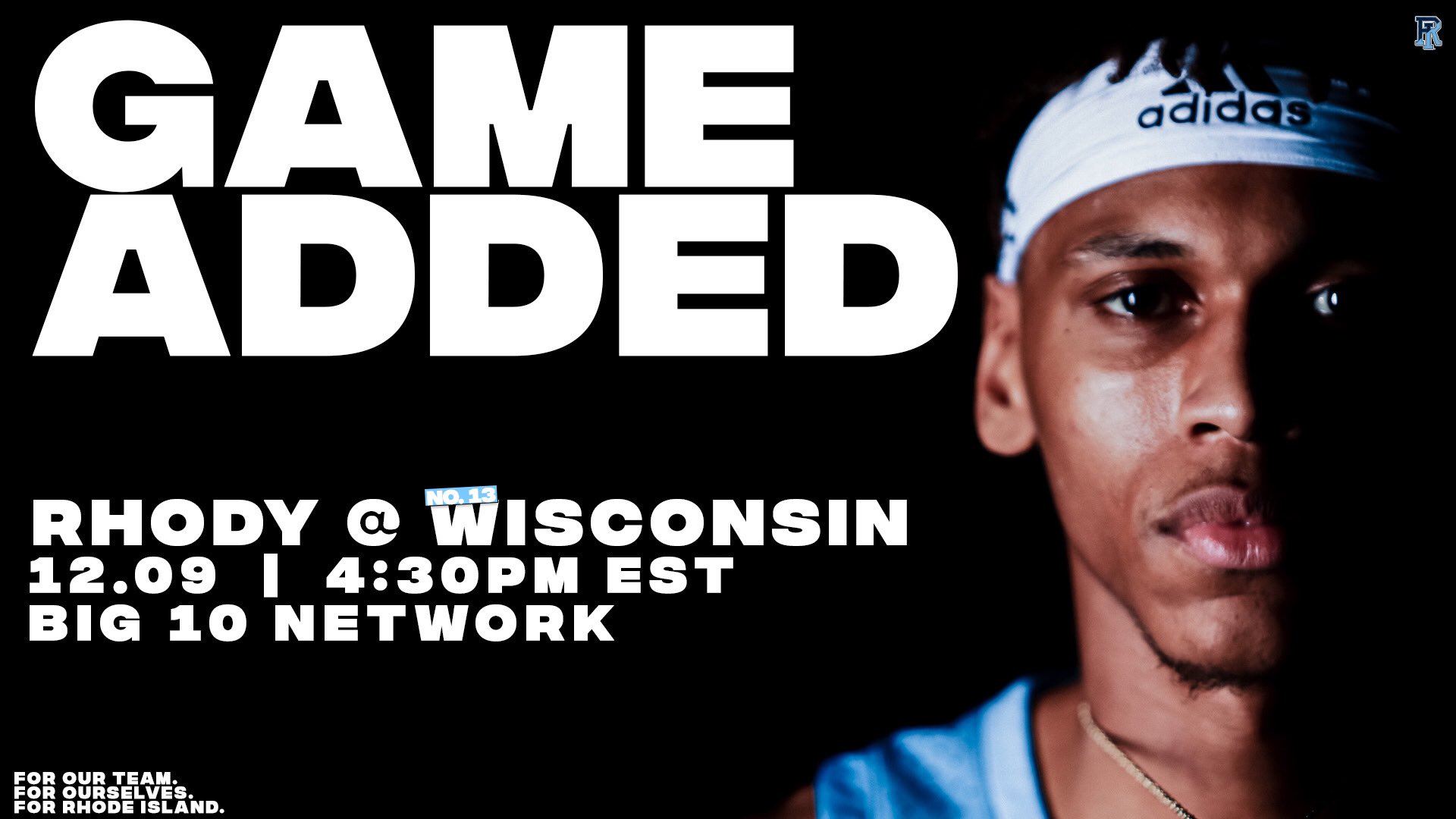 You can follow along live for this matchup on Twitter at @BigGilli & @A10Talk on Wednesday afternoon/evening.  Be well and #GoRhody!