Philadelphia – The La Salle Explorers (2-3) fell to the #7 ranked Villanova Wildcats (4-2), 72-46, in a blowout loss at The Palestra. The much anticipated game saw the return of a Big 5 basketball to the famous 'Cathedral of Basketball'. This was especially noteworthy as it was a game that did not feature the University of Pennsylvania, a team who calls the Palestra home. Instead it featured two teams who do not call the Palestra home, a return to how Big 5 basketball should always be played, all that was missing was a double header to follow it up. 
In addition, this was the first time that La Salle and Villanova faced one another since 2019, as the two teams did not meet during the shortened 2020-21 season. Villanova was led by senior Guard Collin Gillespie who scored 13 points on 4-10 shooting. Gillespie also accumulated six rebounds and five assists in his 29 minutes of play. While Gillespie did lead the stat sheet for the Wildcats, it was clear that this was an all around team effort, with six Villanova players scoring over eight points and four with double digit scoring. 
On the other side of the ball La Salle was led by sophomore guard Jhamir Brickus and freshman guard Khalil Brantley. Brantley finished the game with 17 points, on 5-10 shooting from the field. Brantley also shot 75% from beyond three and finished the game with three rebounds. Brickus, who scored 13 points on 5-13 shooting, also finished the game with one rebound and one steal. 
Two Teams on Two Different Levels
The difference between Villanova and La Salle was night and day. On one side of the ball was a well oiled machine; while on the other, was a team with no identity. Villanova moved the ball with precision on offense. On defense they knew when to shift and bring help to teammates. The Wildcats controlled every minute of this game, leading in every possible category. 
Villanova is a team that knows how to run its offense with no second thought. The Wildcats whisked the ball around the court, to the point where you could assume it was one a string. They found the open player consistently and capitalized on every open look they were given. In total they were able to finish with 11 assists.
La Salle on the other hand had no offensive identity. All game the team would swing the ball around the arch, with no plan to set a screen or run a hard cut. The Explorer's ran an isolated offense and it was reflected in the one assist the team had all game. It is worth noting that before the game La Salle had planned to win the turnover battle as key to win the game. Minimizing mistakes was critical in order to keep the game close. Luckily, La Salle committed 11 turnovers to Villanova's 14. However even with wining the turnover battle it was not enough to overcome the wildcats precision play, as Villanova jumped out to a massive 42-17 lead at halftime.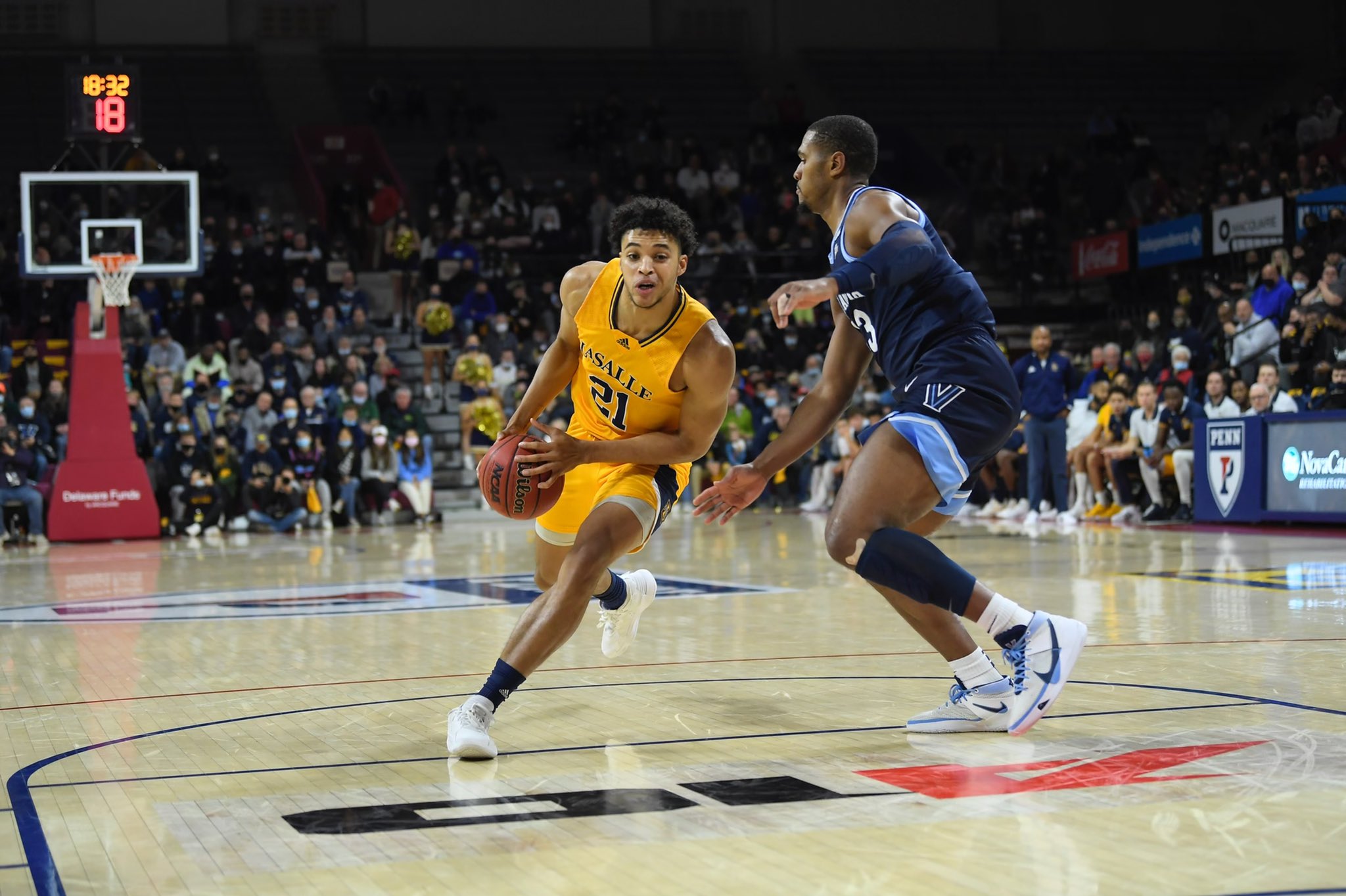 La Salle Needs a Scheme, NOW!
La Salle should not expect to beat Villanova every year. Which is fine, since Villanova is one of the top five programs in the country. However, La Salle will never have a chance of beating the Wildcats if they do not implement some offensive identity. La Salle was actually decent on defense tonight. They held the wildcats to only 35% shooting from beyond the arch and 43% for total field goal percentage. Even in the first half La Salle had kept Villanova at 38% from beyond three, a decent number considering how good Villanova is from long range. 
However, La Salle's offense was nonexistent. They shot a dismal 15% from the field for the first 20 minutes, not to mention they had only one assist for the entire game. The Explorers simply do not have the talent to run an isolation only offense. They need to build an identity. I know this will sound like the old man rant, but there is nothing wrong with implementing a modified Princeton offense. Even a a four corners offense would result in more open shots than what La Salle was able to get.
Teams with less talent can overcome the talent gap of their opponents if they successfully implement a scheme. Sure, Villanova will always have better recruits. However, if La Salle picks a consistent style of play that generates decent, open looks, they will improve their chances of winning. What we saw tonight did not resemble any form or style of play. It was every person for themselves and the stat sheet showed it. 
You Don't Need to Kill the Stat Sheet
One final thought on the night that I must share. The movie Semi-Pro is a silly movie about a basketball team in Flint MI that is struggling to make it to the NBA. It is a movie all hoops fans should watch, and if you haven't there is a spoiler ahead. But, in the movie Woody Harrelson's character forces the team to run one play at practice to the point of exhaustion. That way it is embedded in the teams memory and becomes a go to solution when they need a basket. Now, LA Salle doesn't need to go to those extremes, but that is the level of dedication and mental preparation needed in order for La Salle to run an offense against a team like Villanova. Pick a scheme that will always provide some decent looks to the team and get to the point where you no longer think about it, it just becomes second nature to you. 
The reason programs like La Salle, Saint Joe's, and Fordham hire coaches who worked for Jay Wright is because they want a team that plays the way Villanova did tonight. Nova didn't kill the stat sheet. However, when shots didn't fall, they stuck to what they know best and executed to win. They got everyone involved and utilized the entire roster to manufacture points and find the open shot. They also turned up their defensive intensity, if they weren't scoring, neither were their opponents. Coach Howard needs to take a page out of the Jay wright book, pick an identity and stick to it. No more isolation where the team is standing and watching, it's time to get everyone involved. 
La Salle will continue it's Big 5 schedule as they head to Temple to face the Owls on December 1st at 7:00pm.
A former D1 Athlete at Saint Joe's, Tony has earned both Undergrad and Graduate degrees from SJU. As an athlete, he was apart of a A10 team title. As ...