Today is September 1st, which can only mean one thing: Pumpkin Spiced Lattes are back, baby.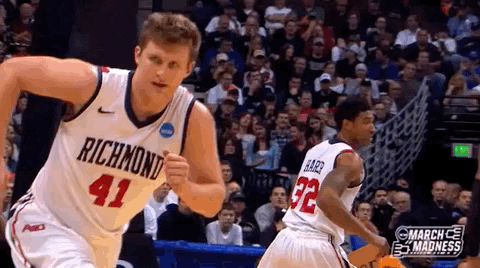 While our pumpkin-infused caffeine boosts are a premature sign of autumn, this 90+ degree weather rather indicates that the college basketball buzz is heating up.  Out-of-conference schedules are releasing, recruits are going on official visits, starting rotations are taking form and Spiders basketball Twitter is shaking off the rust.
https://twitter.com/FireMooneyMafia/status/1167556137018974208?s=20 
With the satirical accounts already firing their shots, 2019-2020 in all seriousness is a crucial year for Richmond head coach Chris Mooney.  A disappointing 13-20 campaign in last year illustrated the distinct divide in Spider nation: those pro-billboard and anti-billboard. 
It can't be ignored how depleted that Spider team was last season after losing leading-scorer Nick Sherod merely six games in.  Mooney's Princeton-offense was run by three sophomores and two freshmen and featured two bench players playing north of ten minutes per game (Noah Yates and Julius Johnson), both of whom averaged fewer than four points.  A revamped roster this year means it will be a major test for Mooney. The pieces are in place, it's now up to the coach to complete the puzzle.
Golden, Gilyard, and Cayo being in the starting five are about as guaranteed as Chick-fil-a's customer service.  From here Mooney has several interesting routes to go with the remaining two spots. Transfer Blake Francis from Wagner has impressed everyone this summer and appears at the moment to have a starting role alongside Gilyard in the backcourt.  The redshirt junior made 102 threes at a 40% clip his sophomore season with the Seahawks and will create more space for Gilyard to get off his own shots.
Redshirt junior Nick Sherod is returning from a torn ACL and his recovery will be this group's X-factor.  Sources around the team have said his rehab is on track for an opening-night return, barring any setbacks.  He is currently able to train in most capacities aside from live-ball action while he regains lateral agility.  
Having Sherod bring veteran leadership to the second unit as he initially returns could be intriguing; however, it appears that the staff prefers to see him play alongside starters where he will have less pressure to play on-ball in the early going.  Although other young players' progress, and his own health, could change things, the plan seems to start him game one for now.
Possibly Richmond's biggest weakness last year, aside from rebounding, was depth.  The bench consistently went just two players deep, with Noah Yates and Julius Johnson, while featuring inconsistent minutes from freshmen Sal Koureissi and Matt Grace.  The reserves got less than 10 points per game combined. That is unlikely to be the case in 2019-2020.
Jake Wojcik and Andre Gustavson are still gunning for starting positions but at this moment it appears they'll be coming off of the bench.  These two having an entire season of starting experience will be massive for Mooney's cavalry. Gustavson is gaining more confidence in running the Princeton offense and plays excellent defense as an athletic 6' 4" guard.  Wojcik's shooting stroke and improving spatial awareness has the two of them in line to be a dangerous backcourt, capable of going at it with many starting guards.
The Spiders' staff thought freshman Tyler Burton was a steal and he only confirmed that after blowing away their already-lofty expectations over the summer.  He showed coaches an incredible knack for rebounding on both ends of the court, a high motor, great off-ball awareness and incredible polish for a 19-year-old.  His 6' 8" frame and shooting ability provides Richmond with the size it's been craving without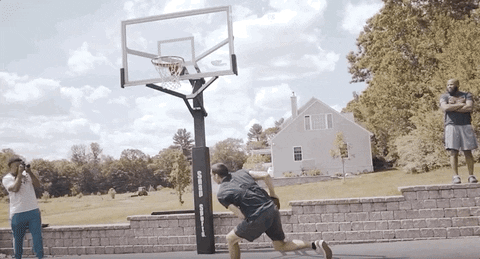 sacrificing spacing and speed. Burton will most likely come off the bench in a heavy role from the beginning to support a team among the worst in the nation in rebounding in 2018-2019.  Don't expect him to start but if Sherod hits a setback or Burton continues his impressive trajectory, check back in on that during conference play. (Check out Blacktop Talk with Tyler here.  Full day vlog with him is coming out soon).  
Sophomore Sal Koureissi had an interesting freshman campaign that flashed his high ceiling as he displayed many necessary intangibles.  His vision in the lane and size are there but he's still catching up with the speed of the game and working on his jump shot. An inability to space the floor effectively is the biggest factor holding him back.  However, a deepened team will see him share the court with more playmakers, opening opportunities to improve those weaknesses and highlight his solid interior game.
Fellow second-year player Matt Grace saw streaky minutes last season, providing Golden some relief off of the bench.  It sounds as though he'll have a role this year given his 6' 10" frame and an under appreciated ability to shoot from the perimeter.  He'll look to add some strength over the year as he provides rebounding support to Cayo and Golden.
The hope for bench minutes last year was that they could keep the Spiders afloat while resting the starters.  They weren't often able to do just that, considering an extreme lack of production and Jacob Gilyard's 37 minutes per game in his second year.  This year, that attitude will turn from treading water to surfing over it. Look for this second unit to be among the deepest and toughest in the A-10.  
Mooney's tumultuous year last season warranted legitimate criticism for a lack of progress but there is an equally fair defense.  A key injury thrust unexpected freshmen into starting roles which sacrificed both size and depth. While Mooney's offense could certainly became stagnant at times, it's impossible to not also credit him somewhat for Nathan Cayo's emergence and the formation of a big three.  
The A-10's leading scorer Jacob Gilyard returns for his junior year along with fellow Conference Player of the Year candidate Grant Golden.  Revamped with both new additions, depth, and experience, this season is a major test for Chris Mooney which he as well as the team believe he can exceed.  If he can put all the pieces together, this team has a ceiling as high as the fourth seed in the A-10, thought I'd expect them to finish around fifth or sixth, competing with St. Bonaventure's, URI and Dayton.  However, this is a very new team and if it has a 2018-2019 Celtics-esqe season, look out for the Mafia's Twitter rampage yet again.
Freelance journalist covering Richmond Men's Basketball for ESPN Richmond. I host my own web series called Know Your Spiders (check it out on YouTube...