This year's preseason All-Conference first team, composed entirely of seniors, serves as a reminder of how much A-10 teams rely on seniors and need to consistently replace talented, experienced players on a yearly basis. Last year's first team was especially talented with four all-time greats at their respective schools moving on to professional aspirations.
This article tries to answer the question of how to replace the seemingly irreplaceable, as some schools have a plan in place while others will have a tougher time recovering.
T.J. Cline
There really is no easy way to replace the reigning A-10 player of the year because there are so few players in America that pose the matchup problems that T.J. Cline does. The obvious answer to this question is Grant Golden, the redshirt freshman who had his freshman campaign cut short during a scary on-court incident in December. While the promising freshman should play a major factor, he cannot be asked to step up and be the playmaker that Cline was. Instead, Richmond will likely shape their offense around their athletic backcourt, an area in which they thrived after deciding to go small last season.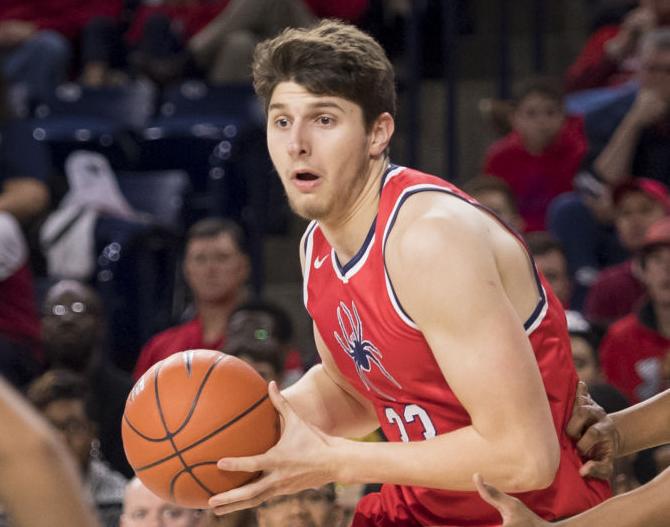 In recent years, Richmond's personnel has dictated its style of play, and that likely will not change this season. While previously running their offense through forwards such as Cline and Terry Allen, the Spiders will give De'Monte Buckingham the reigns this year. Last year Richmond was successful running four guards around Cline, and it is hard to imagine Chris Mooney moving away from this approach with his current roster. He will not have the big man playmaker in the middle, but will have more flexibility, however, as the additions of Solly Stansbury and AJ Ford allow for more lineup versatility.
Richmond should be flying around the court and a nightmare to guard this season, but the reality is—at least in this writer's mind—that with five freshmen and the loss of Cline, the Spiders are facing a transition year. However, their ceiling is controlled by how big a step forward Buckingham and Nick Sherod take this season. Based on how the those two looked last season, nobody should count Richmond out. Also keep an eye on freshman Jacob Gilyard, an explosive freshman point guard, who could help vault Richmond past some tough opponents.
Jack Gibbs
Replacing the leading scorer in the conference will be a tall task, but luckily the Wildcats have the highest ranked recruit in their history coming in at the same position in Kellan Grady. The young guard is a different player than Gibbs in numerous ways, most notably in his physique: at an athletic 6'5", he handles pressure well and can finish with length over and around defenders. He also is not constantly in attack mode like Gibbs, but rather is somebody who takes what the defense gives him. Grady does have the outside shot, ability to hit floaters, and craftiness around the rim that made Gibbs ultra effective, but as a freshman he cannot be counted on replacing Gibbs' role alone.
Bob McKillop offenses are ideally equal opportunity, making last year an outlier when they were so reliant on Gibbs and Peyton Aldridge. In recent years the offense was more balanced with Brian Sullivan, Jordan Barham and Tyler Kalinoski on the floor. As those players have graduated, their absences have yet to be totally accounted for, which has place a greater burden on primary options such as Gibbs and Aldridge to score.
The hope at Davidson is that with Aldridge as the focal point, the equal-opportunity offense will return, which means more than just Grady stepping into the spotlight. The expectation coming into the year was that freshman Luke Frampton would fill the role that Kalinoski played as a do-everything elite shooter, but he will redshirt this year following a preseason injury. As a result the rest of the team will need to step up; Rusty Reigel, KiShawn Pritchett, Jordan Watkins and Jon Axel Gudmundsson will have to assert themselves as long-range scoring threats on offense so that defenses cannot key in on Aldridge inside. These players showed promise last season, but all shot 33% or less from three, numbers atypical of classic Davidson guards. Also keep an eye on freshman Carter Collins, who may take time to assimilate to the offense, but is an explosive athlete in the mold of Jordan Barham, albeit smaller but with guard skills.
This transition to the post-Gibbs era will be tough, but having a great player in Aldridge, six seniors and a potential star freshman gives them the potential to overcome all the lost production.
Scoochie Smith
Dayton graduated a historic senior class this spring, but the loss of Scoochie Smith in particular will be the hardest for them to overcome this season. While the Flyers lost Archie Miller, they still return Xeyrius Williams, Josh Cunningham and the experienced Darrell Davis, in addition to bringing in a talented freshman class with players at every position. However, point guard will be their biggest question mark this season.
The hope was that McKinley Wright would step in and be a star in the A-10, but he took his talents to Colorado after Miller left the program. John Crosby has been a serviceable backup his first two years in Ohio, but with Scoochie at the helm, he has yet to prove he can run the show. After initially considering transferring, Crosby opted to return, and now the pressure is on his shoulders to take a step forward and lead a young but talented Flyer group.
Dayton will also look to ease the loss of Scoochie with the addition of freshmen Jalen Crutcher and Jordan Davis. Crutcher was a late addition by Anthony Grant after he decommitted from Chattanooga. He is a three-star prospect with a competitive edge—the type of player who thrives at Dayton—yet the question remains whether or not he will be ready to not just play major minutes but assume a leadership role early on in his Flyer career. The talented Davis is better suited playing off the ball, although Dayton's current roster construction could force him into lead guard duties at times.
Thankfully for Dayton, the point guard position looks like it will not be a problem for long, as they recently landed one of the best 2018 prospects coming into the A10 in hyper-competitive guard Dwayne Cohill. With Cohill at the helm and everyone returning next season other than Darrell Davis, Dayton will once again be a force to be reckoned with on a national level next season after what has the potential to be a down year by Flyer fan standards.
JeQuan Lewis
Just like Dayton, VCU lost not only its coach but also its heir apparent at the point guard position, as top-100 prospect Lavar Batts Jr. moved to N.C. State. However, with the talent VCU has accumulated over recent years and Mike Rhoades immediately bringing in transfers, the Rams should be able to handle the loss of Lewis in the short and long term.
Having a battle-tested senior in Jonathan Williams available to lead the show right away is a luxury most teams losing a first-team all conference point guard can't claim. Williams is not the game-changing talent that Lewis was, but he is competitive and is great at penetrating and finishing at the rim. He hasn't produced numbers to the level that some VCU fans would hope, and I doubt that changes much this year, but with young wings coming into their own surrounding him (I'm looking at you, De'Riante Jenkins), Williams won't have to try and take over games with his scoring. The primary issue that could arise this season is if Williams continues to shoot extremely poorly from the perimeter, which would allow teams to play "Rajon Rondo" defense on him, clogging the paint and limiting the impact of VCU's athletic slashers.
As far as the future of the point guard position, Rhoades brought electrifying transfer Marcus Evans with him from Rice, who will have two years of eligibility remaining. The Rams also have freshman Tyler Maye this season, who was primarily a scorer in high school and may take time to assimilate, and are bringing in talented pass-first point guard PJ Byrd in the 2018 class.
Jaylen Adams
Hmmmmm… how on Earth will they replace this guy next season…