Philadelphia, PA – Saint Joseph's University will look to continue their Big 5 win streak as they prepare to face the Temple Owls (6-3) today at 1:00pm EST. The game will be broadcast live on ESPN+ from Hagan Arena. 
Saint Joe's is looking to build momentum after Wednesday's 78-71 win against the University of Pennsylvania. The fans of Hagan were treated to a scoring spree from both Jordan Hall and Ejike Obinna, as the two found a way to clear the 20 point mark. Jordan Hall shot an impressive 8-11 from three and also tallied seven assists and four rebounds. Obinna went unchallenged below as the Saint Joe's scoring staple pursued an efficient 9-13 shooting night. 
Freshman Erik Reynolds II continued to improve his game as well. Reynolds finished with 10 points and was again the main point of contact in the half court offense. Like most freshmen, Reynolds has slowly improved on a night to night basis. Constantly making his presence known as he gains comfort in the new system. The newcomers of Obinna and Reynolds have been so important to the improvement of Saint Joe's. Obinna, the savvy vet, took little time to acclimate to Lange's scheme as he continues to impress with his low post prowess. In addition, Reynolds has provided much needed explosiveness in the half court as well. There is no doubt that Saint Joe's will keep getting better as Reynolds grows in confidence.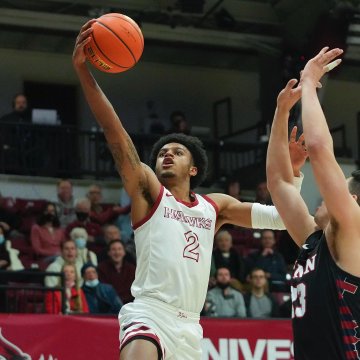 Taking Down Temple
In order for Saint Joe's to beat Temple, the Hawks will need all starters to play well. Obinna, Funk, Hall, Reynolds, and Brown all need to come out hot from the start. While the game against Villanova resulted in a loss, I believe there are lessons to be learned for Coach Lange. As stated earlier, Obinna is the center piece to their success. Saint Joe's established easy baskets early in the Villanova game thanks to the play of Obinna. It was only when the Hawks strayed away to three point shooting when the Nova game got out of control.
The Hawks need to go to Ejike and get the offense going with easy close range shots. If they can do that, it opens up the court that much more for the rest of the team. It gives Hall and Reynolds more freedom to attack in the lane as the threat of an Obinna alley-oop looms. Not to mention it allows up Taylor Funk to freely patrol the three point perimeter. 
Historically, Temple has had the better of Saint Joe's throughout this matchup. Temple, a former A10 team (we miss you), has beat Saint Joe's frequently, tallying a series record of 14-7 since 2007. Adding to that, Temple has also won the last four matchups with the Hawks. The last being a 108-61 blowout at the Liacouras Center in 2019.
Saint Joe's main focus will be on stopping Guard Damian Dunn, who was the co-Big 5 player of the week last week. Dunn scored 27 against Penn last Saturday and also had an 18 point effort in Temple's win against Vanderbilt on Tuesday. While Dunn will be top of mind, it must be noted that Temple has seen major set backs due to injury, especially after Khalif Battle's season ending injury.
Finishing Second in the Big 5 is at Play 
While Temple is not at full strength, this will still be a great test for Saint Joe's. Temple is a better team on paper, but they are not light years ahead of the Hawks like Villanova. The goal for SJU this season was to come with victories over winnable opponents. That was the key to achieving the goal of being an over .500 team.
Beating Temple will be another stepping stone for a program looking to recover. Yes, beating Villanova was always a lofty goal. But sweeping the rest of the Big 5 was always attainable, and grabbing two Big 5 wins in one week is just what Saint Joe's needs. It's an achievement that will keep Saint Joe's on the right path. Especially as Coach Lange works to build momentum before into A10 conference play.
Like the coverage and want more? Follow me on twitter (@Jelly_Morelli) and check out my Saint Joe's podcast, Hawk Talk! (@HawkTalkSJU)
A former D1 Athlete at Saint Joe's, Tony has earned both Undergrad and Graduate degrees from SJU. As an athlete, he was apart of a A10 team title. As ...