The emergence of Nathan Cayo in his sophomore year was one of the few refulgent parts of the 2018-2019 season for Richmond basketball fans.  Playing about 13 minutes nightly as a freshman, Cayo started all 33 games last year and dropped 12.9 points per game, up from 2.3 the preceding season.  The 6' 7" 225 lbs Canadian forward was a staple in the low-post for Mooney's offense as the only consistently productive big man aside from Grant Golden.  
Despite strong offensive seasons from the both of them, Richmond was one of the worst rebounding teams in the nation last year.  In fact, the Spiders ranked bottom five in all of Division 1 in both rebounds per game and TRB% (total rebound percentage). For fans with less of a proclivity for analytics, Basketball Reference explains TRB%: "Total rebound percentage is an estimate of the percentage of available rebounds a player grabbed while he was on the floor."  I will be using TRB% more than rebounds per game in this article because it allows us to compare Cayo to someone who played less minutes, as Sal Koureissi, who averaged fewer rebounds per game than Cayo, but actually pulled down more of the available boards (TRB%) while he was on the floor.
In contrast, the two teams from the A-10 that danced in March, SLU and VCU, were among the best rebounders in the conference.  They were respectively first and second in the league in rebounds per game and first and fourth in TRB%. Richmond was ranked 6th in the A-10 Preseason polls, so the question must be asked of how the Spiders will compete with the top of the conference this year being such a poor rebounding squad.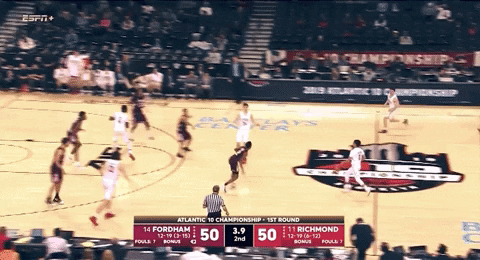 One of the biggest x-factors is whether Cayo will be able to build on his scoring improvement last year by taking his next jump as a rebounder.  Golden and Cayo were respectively first and second for the Spiders in rebounds per game at 7.1 and 4.2. Cayo wasn't necessarily the second most effective rebounder though.  His 8.2 TRB% put him behind Matt Grace's 8.4 TRB%, Noah Yates's 9.4%, Koureissi's 9.5% and Golden's 13.9%, which led the team. Cyril Langevine of URI, whose 6' 8" 225 lbs frame is comparable to Cayo's 6' 7" 225 lbs, averaged 19.2 TRB%.
The case could be made that Cayo and Golden were both often on the floor together, being the starting bigs, and each got 31.4 minutes per night.  As the larger forward, it could be assumed that Golden was simply taking away rebounds from Cayo, where as Koureissi's 9.5 TRB% could've been attributed to him sharing the court with backup players who would take less available rebounds away from him.  It's unlikely this is true for a multitude of reasons.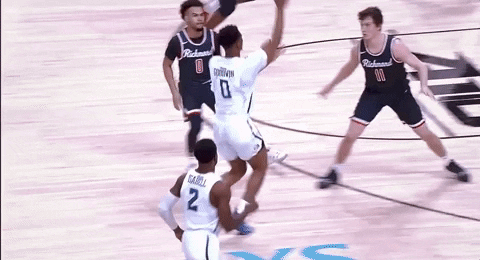 Golden's 13.9 TRB% was not even top-10 in the league, so while he may have grabbed the most available rebounds among his teammates, he was still leaving plenty enough of them for Cayo to get.  Look at the Billikens, the best rebounding team in the A-10 last year. Hasahn French and Jordan Goodwin both started and played over 30 minutes per game, meaning they frequently shared the court.  Despite French's 16.4 TRB%, Goodwin was able to manage 13.1 TRB%, not far off from Golden. Cayo and Golden certainly can't be expected to turn into Goodwin and French, but this shows that Cayo's production isn't suffering because of Golden's presence.  
Cayo has proven his strength and athletic ability, so there's no doubt he has the intangibles to improve as a rebounder.  Don't forget, he's only entering his third year and second as a starter.
What would it mean for Richmond if Cayo can get better? Rebounding was not only a gaping weakness itself, but in turn it killed the Spiders on defense.  Their 70.6 DRB% (the same as TRB% except only applying to available defensive rebounds) ranked second-to-last in the A-10, indicating that when opposing teams missed a field goal, they'd pull down an offensive rebound almost 30% of the time, which is a ridiculous amount of opportunities for second chance points.  
I'm cautiously optimistic that Cayo can make strides.  The ability is there, he just needs to be less laggard in his positioning and boxing out.  Four of the five teams ahead of Richmond in the Preseason A-10 rankings take fewer than 41% of their shots from three point range, which could even decrease as the line has been moved back to FIBA distance.  Deeper shots lead to longer rebounds, which hurts opportunities for bigs like Cayo. Because the teams ahead of the Spiders, aside from Davidson, are taking a high volume of two-pointers and not of threes, the chances will be there for him.
Nick Sherod averaged 9.3 TRB% as a sophomore, so his return to the starting lineup will be an improvement from Jake Wocjik, 7.7 TRB%, and Andre Gustavson, 6.9 TRB%, but that won't be enough to help one of the five worst rebounding teams in the country just a season ago.  It's ineluctable that this deeper and older Richmond team will score.  If it wants to be a serious threat in Brooklyn come March, it'll need Cayo to step up big time unless freshman Tyler Burton is able to quickly establish himself.
Freelance journalist covering Richmond Men's Basketball for ESPN Richmond. I host my own web series called Know Your Spiders (check it out on YouTube...