Despite graduating five seniors who made up the winningest class in school history, the Saint Louis Billikens came into the 2014-15 season with high expectations. After all, they had finished second, first, and first in the last three seasons and had won three games in the NCAA Tournament over that same time-frame. Unfortunately for the Billikens, everything seemed to go wrong. After picking up a convincing road win at Indiana State in the second game of the season, the Billikens went 9-21 the rest of the way including home losses to Texas A&M Corpus Christi and South Dakota State as well as blowout losses against Mississippi State and Davidson. The season reached it's low point on the last day of February after a 28 point home loss against George Mason; one that marked the largest margin of defeat in Chaifetz Arena history.
Despite only having two seniors on last year's roster, the Billikens lose four players from last year's team. John Manning graduated and Grandy Glaze will play at Grand Canyon University after sitting out all of last year with a shoulder injury. Austin McBroom has moved on to Eastern Washington after seeing his playing time and efficiency drop during A10 play and Tanner Lancona has transferred but has yet to pick a destination.
Ash Yacoubou, the second leading scorer from a year ago, returns as the lone senior. Mike Crawford and Reggie Agbeko are the only juniors on the roster. Crawford was the team's third leading scorer and Agbeko finished strong averaging 7.2 points and 7.4 rebounds over the last five games. The six freshmen all return led by leading scorer Milik Yarbrough who despite his slow start and slow finish averaged 10 points and almost 5 rebounds per game.
So the question is, with much of the same team that won just 11 games and finished last in the A10 with only 3 conference wins returning, how soon can Billiken fans and A10 followers expect the Billikens to return to the top of the conference?
Let's start at the top. Jim Crews is a two-time A10 Coach of the Year and won National Coach of the Year during the 2012-13 season for his work after the Billikens rallied to a school record 28 wins after the death of Coach Rick Majerus. Unfortunately Coach Crews doesn't have an overly impressive resume other than that. The 61 year old carries a career record of 420-383 and has made the NCAA Tournament just six times in 27 years of coaching, although only all the all time greats have success at Army so I am willing to throw out those seven years. Still though, a rate of of six out of 20 is not what Billiken fans would like to see. Despite all of this, Crews has proven that he can win when he has talent on the roster.
Taking a look at the roster, you can see the pieces to start the climb back to the upper echelon of the A10. The question is whether those pieces all fit together and if there are enough of those pieces.
When you think of the great SLU teams over the past four years, you think of the three-headed monster backcourt of Kwamain Mitchell, Jordair Jett, and Mike McCall Jr. The three combined for 4,026 points, 388 made 3 pointers, 6 separate A10 Player of the Week Awards, 5 All A10 Teams, and of course an A10 Player of the Year award. All three could handle the ball or play off the ball as spot up shooters and slashers as well as play All A10 level defense. It is difficult to find a similar three-headed attack on the current roster.
Rising sophomore Davell Roby appears to be to closest match as he was a well rounded offensive player and often drew the opposing team's leading scorer on defense. Roby scored in double figures nine times after the calendar turned to 2015 and will be counted on as a team leader heading into the next season. Mike Crawford, a junior from Tipton, Indiana, showed the ability to efficiently score in a variety of ways including the dying, but useful mid-range jumper. Add those two to Ash Yacoubou and you see a logjam at the 2/3 position. Coach Crews may need to consider going small next year to get his best scorers on the court following up a year where the Billikens ranked 317th in offensive efficiency per kenpom. Marcus Bartley shot 43% from 3, a freshman class record, but he will need add strength and show more of an ability to run the point if the Bills are to take the next step. Miles Reynolds showed a unique ability to get to the line, finishing 3rd on the team in free throw attempts despite finishing 10th in total minutes played. Again though, the Billikens are lacking multiple people who can handle the ball and make life tough on opposing defenses. Incoming freshman, Jermaine Bishop, appears to bring an athletic scoring punch to the mix, but the quickest way into the lineup for him will be to become a strong point guard.
Every year since the 2011-12 season, SLU's offensive efficiency has gone down. A big reason has been the dying inside play for the Billikens. Brian Conklin graduated after 2012 and he gave the Bills a true post-up player who got to the line consistently. Cody Ellis left after 2013 and his ability to stretch the defense and space the floor gave the Billikens plenty of driving room. Finally, the loss of Dwayne Evans and Rob Loe after 2014 left the Billikens with a lot of inexperience down low.
Reggie Agbeko is 22 years old, but is still young in basketball years having just started playing in high school. He has shown flashes of being a strong, athletic, back to the basket post player, but he has been very inconsistent. Austin Gillmann can stretch the defense and is one of the better passing big men in the league, but he will need serious strength and quickness before he can be counted on as a major contributor. Brett Jolly came with high expectations after prep school, but struggled in his first year of college basketball. The wildcard is Milik Yarbrough who had eight games where he scored 14 or more points in 2015, but also had six games where he scored 6 or less. A more consistent effort and performance will be necessary for Yarbrough who will need to play as a big man despite having a skill-set to be a wing player. Billiken fans have high expectations that Matt Neufeld can step in and be a major contributor at the 5. Neufeld is currently representing team Canada in the FIBA U19 World Championships in Greece and is seen as a strong, athletic big man. As SLU has seen in the past couple years though, it will be hard for any freshmen big-man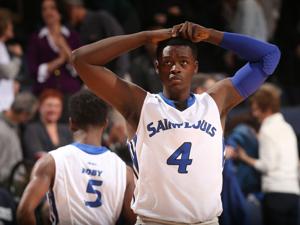 to come in and be a major contributor. Finally, Elliott Welmer is a stretch 4 from Indiana who needs to add serious strength, but could fill that role of spacing the court.
I sense a lot of potential on the roster, but potential only means that you haven't done it yet. Can the coaching staff get the most out of the potential on the roster? Can each player get the most out of himself? To use one of Jim Crews' favorite words, it will certainly be a "process". Crawford, Agbeko, Roby, and Yarbrough give the Billikens something to build around, but are they enough and is there enough surrounding talent?
You can't talk about the Billikens these days without bringing up Jayson Tatum, the #2 recruit in the Class of 2016 by ESPN. Tatum has the Billikens in his final four schools and recent reports out of St. Louis say that it is down to SLU and Duke. But SLU can't rely on one year of Tatum to build themselves back up into a consistent upper A10 team. It will start with the current roster and their development. Then add in the recruiting outside of Tatum. Can the Billikens build on this recent success? Spending weeks ranked in the Top 10 built SLU an image, but that image can disappear before you know it if you don't capitalize on the success.
To answer the question, I think a top 10 finish in the A10 this coming season would be a big improvement. Add in a top 144 kenpom ranking and you have something to build on whether Tatum chooses SLU or not. If Tatum chooses to play his college ball elsewhere, I think an appearance in the NIT should be the goal for 2016-17, with the NCAA being the mark to reach in 2017-18. If nobody transfers, the Billikens will graduate six players after that season so the sign that they have truly arrived will be whether they can sustain their success or whether they have to go through the same process again.
Matt Morton is a graduate of VCU and a cloud computing expert. He is a devoted college hoops fan and has been covering college hoops on the side since...